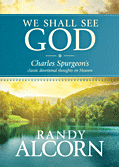 We Shall See God
Randy Alcorn
About the Book
No author in history has more material in print than Charles Spurgeon. During his lifetime, Spurgeon and his writings affected the world far and wide. Today, nearly 120 years after his death, countless people continue to have a passion for this London preacher, and more and more discover him every day. Some of Spurgeon's most powerful sermons were those that he preached on the topic of Heaven. Up until now, however, very few of these sermons have been accessible to a mass audience. In what is sure to become an instant classic, best-selling author Randy Alcorn has compiled the most profound spiritual insights on the topic of eternity from these sermons and arranged them into an easily-accessible, highly inspirational devotional format complete with his own comments and devotional thoughts. Whether you are familiar with the works of Charles Spurgeon or not, you are in for a treat, as Alcorn invites you to sit at the feet of the Prince of Preachers and discover timeless pearls of wisdom from one of the greatest theological minds of all time.
My Thoughts
I have been greatly impressed with Alcorn's writings over the last year, and this devotional-type book does NOT disappoint. I have always been overwhelmed with the vast content you can find regarding Spurgeon and his sermons from long ago, so I absolutely love this "concise" book specifically concerning the topic of heaven--a topic near and dear to my heart from May 25, 2010 onward. I was almost concerned that this book would be TOO heavy of reading and that I'd have to sift through these lengthy sermons in order to uncover an applicable illustration. Thankfully, Alcorn has already done the dirty work for us and we can jump right into the "good stuff." Separated into 50 days or chapters, it's easy to systematically work your way through this book without being overwhelmed. Day 9 (Seeing Our Loved Ones In The Morning) is especially thought provoking and encouraging for me personally. A great, great encouragement for those who have had to say goodbye through death to saved loved ones.
About the Authors:
Randy Alcorn
is the founder of Eternal Perspective Ministries (EPM). Prior to starting EPM, he served as a pastor for fourteen years. He has spoken around the world and taught on the adjunct faculties of Multnomah University and Western Seminary in Portland, Oregon.
Charles Spurgeon (1834-1892) was England's best-known preacher for most of the second half of the nineteenth century. He served for thirty years at the Metropolitan Tabernacle in London, and it is estimated that during his lifetime he preached to more than 10 million people. His collected sermons fill sixty-three volumes and remain one of hte best-selling series of writings in history.
Tyndale House Publishers has provided me
with a complimentary copy of this book or ARC.