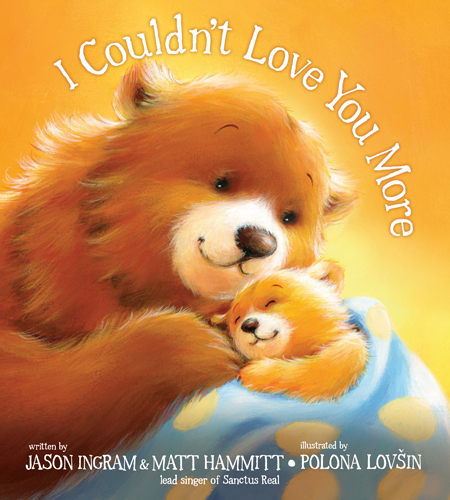 I Couldn't Love You More
by Jason Ingram & Matt Hammitt
For those of you who see my updates on your Facebook feed, you are aware that I am a huge fan of Matt Hammitt--lead singer of one of our favorite bands. When his wife was pregnant with their third child, they became aware via ultrasound of that their son Bowen's had a heart defect. His chances of survival weren't stellar. At the time Bowen was born, we had already said our goodbyes to our Malachi. Bowen was to have the same open heart procedure that our little boy endured. God has blessed our lives greatly by the album Matt Hammitt wrote through this journey--Every Falling Tear.
One of the songs from that album is "I Couldn't Love You More." I love when John sings this song to our babies. Not only does it remind them of their parents' love, but it also points them to the love of our God and Savior. The hand-painted illustrations are a definite perk, too!
Catch a sneak peek of the book
here
.
Watch Matt Hammitt talk about the book here:
.
Tyndale House Publishers has provided me with a complimentary copy of this book for review.