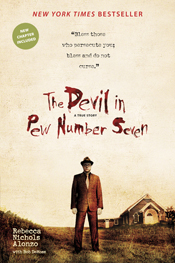 The Devil in Pew Number Seven
Rebecca Nichols Alonzo
Publisher's Thoughts:
Rebecca never felt safe as a child. In 1969, her father, Robert Nichols, moved to Sellerstown, North Carolina, to serve as a pastor. There he found a small community eager to welcome him—with one exception. Glaring at him from pew number seven was a man obsessed with controlling the church. Determined to get rid of anyone who stood in his way, he unleashed a plan of terror that was more devastating and violent than the Nichols family could have ever imagined. Refusing to be driven away by acts of intimidation, Rebecca's father stood his ground until one night when an armed man walked into the family's kitchen . . . And Rebecca's life was shattered. If anyone had a reason to harbor hatred and seek personal revenge, it would be Rebecca. Yet The Devil in Pew Number Seven tells a different story. It is the amazing true saga of relentless persecution, one family's faith and courage in the face of it, and a daughter whose parents taught her the power of forgiveness.
My Thoughts:
From page 1, this book had me intrigued! I found myself quickly attaching myself to the author's character in the book as she describes when the terror begins at age 4--the age of my own daughter. Also, Rebecca's father, Robert, traveled as an evangelist (much like my father-in-law), and I was tempted to plug Norm and Teri into my imaginative recreation of the story! I So many times I turned the page and couldn't believe what I was reading, knowing that it was a true mostly autobiographical account. I kept thinking,
how in the world can this guy be so ridiculous? how can the preacher keep staying true to what he preaches week in and week out? what would I do in this same situation?
Truly an inspirational story of an example of what forgiveness should look like in my life, and far too often--it doesn't.
About the Author
Becky Alonzo never felt safe as a child. Although she lived next door to the church her father pastored, the devil lived across the street. This tormented man terrorized her family with rifle shots and ten bombings. When these violent acts didn't scare them away, he went even further. During dinner one evening, seven-year-old Becky and her younger brother watched as their parents were gunned down. Today Becky speaks about betrayal and the power of forgiveness. Her story has been featured on The Dr. Phil Show, The 700 Club, Lifestyle Magazine, and CNN.com. She is a graduate of Missouri State University and has been involved in ministry, including a church plant, youth outreach, and missions, for thirteen years. She and her husband, along with their two children, live in Franklin, Tennessee.
Tyndale House Publishers has provided me with a complimentary copy of this book for review.